Sustainability at the centre of paper manufacturers' inaugural report
   "Paper, in its countless forms, touches our lives every day and it's a relationship that often goes unnoticed. We use it without a second thought – from our first cup of coffee and morning ablutions, to eating yoghurt, popping our vitamins or putting on lipstick."
So says Jane Molony, executive director of the Paper Manufacturers Association of South Africa (PAMSA) in the association's inaugural progress report. "Paper products are an enabler. Without them many industries would not be able to convey their messages, ship their products and deliver their goods. As the basis for tissue, paper is a bathroom essential and helps to improve lives through personal hygiene. As a medium through which learning is facilitated, paper educates and informs," she adds.
Telling the fibre story
PAMSA's industry report, Paper in Perspective 2016, tells a number of stories – the economic story, the sustainability story and the recycling story. It also delves into PAMSA's efforts in the education, training and research space, and entrepreneurship training for recycling collectors.
Presented in an easy-to-read format, facts are abundant. Did you know that South African paper makers' forests are home to 600 million carbon-absorbing, oxygen-giving trees? Or that only 9% of a plantation is harvested a year and that on average 260,000 new saplings are planted every day to replace what has been harvested?
Paper in Perspective 2016 clearly highlights how wood, pulp and paper – collectively fibre-based materials – are not only renewable but that their cellulosic foundations are taking the industry into new frontiers.
Cellulose used as a fibre additive in food and as a preservative in processed foods. It can be applied in the manufacture of cellphone and laptop screens, as well as through nanotechnology in automobiles, aerospace, defence and medical science.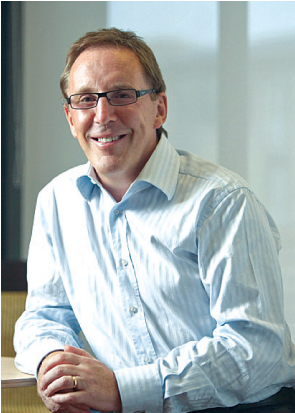 Sustainability at the centre
The foreword – penned by PAMSA chairman and CEO of Mondi South Africa Ron Traill – sets out in no uncertain terms the value of the industry to the South African economy. In 2015 alone, paper, pulp and other associated products contributed R28 billion to the local fiscus and a significant R4.5 billion to the country's balance of trade.
Crucially, more than 150,000 people are currently employed in the value chain from tree planting to paper making and recycling. Encouragingly, an estimated 38,000 work formally or informally in the recycling sector.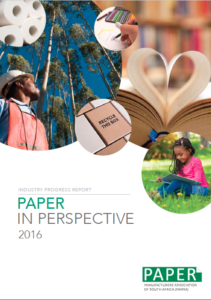 Valuable reference document – available on paper and online
Paper in Perspective 2016 is a one-stop guide to the South African pulp and paper making industry, its members and the vast scope of their activities. As a reference document, it will be of great value to industry commentators, journalists, economists, educators, students of all ages and people considering making a career in a vibrant and technologically advanced industry with an exciting future.
Naturally the publication has been printed on certified, sustainably produced paper, but is also available for download – and desktop printing.