Sappi's #EmpowerHer community programme aims to uplift young women through sport
This year's Women's Month coincided with the women's netball and football world cups, providing the ideal time for Sappi to launch its #EmpowerHer netball programme in its neighbouring communities.
Concerns raised by traditional councils over high teenage pregnancy rates and other societal challenges around Sappi's KwaZulu-Natal-based mills, prompted the company to use sport as a solution.
Giving girls an opportunity to participate in sport builds self-esteem, courage and character and – as this self-belief grows – so too does the likelihood that they will steer their own destiny.
Adolescent girls and young women account for 35% of all new HIV infections, while gender-based violence (GBV) statistics predict that one in five are likely to experience physical violence by a partner. The programme also addresses period poverty, which results in an estimated 30% of girls in South African schools skipping classes due to limited or no access to feminine hygiene products.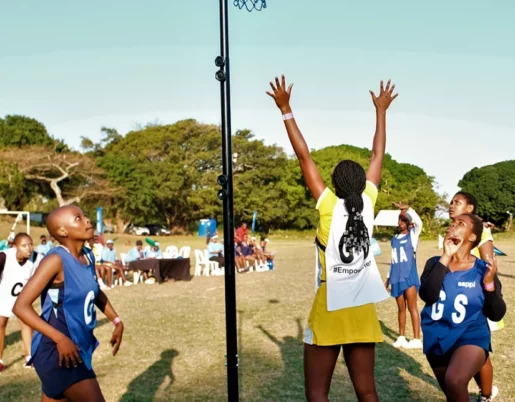 The Sappi #EmpowerHer Netball Recreation Programme has provided accredited training for 24 young women who are now qualified coaches. Facilitated by Netball KZN and loveLife, a youth-based health NGO, the initiative empowers them to use sport as a tool to address local societal challenges, especially those faced by young women and girls. It also extends its support to participating community teams by providing essential resources such as netball poles, bibs, balls, whistles, water bottles and care packs containing sanitary towels and toiletries.
The culmination of their training was showcased in a tournament in August, when they put their skills to the test in a tournament featuring eight teams from Umkomaas, Stanger and Mandeni. Facilitators from loveLife also engaged in focus groups, with topics of discussion including the transformative power of sport, teenage pregnancy, menstrual hygiene and ways to combat GBV.
"The programme celebrates the potential of women in our communities using sport as a vehicle. The #EmpowerHer programme helps young women by promoting a healthy lifestyle and gives them the confidence to step up into peer leadership and advocacy positions. It further supports our commitment to the United Nations' Sustainable Development Goals (SDG), in particular our support of SDG5 which deals with gender equality," commented Mpho Lethoko, head of corporate affairs at Sappi Southern Africa.